Air Compressor Golf Shoe Cleaner
Shoe Valet
PRODUCT CODE: APSC/50
The shoe valet is the ideal solution for removing mud and grass from golfers shoes especially during days of continuous rain where grounds become saturated.
Specification
Compressor : Oil Free 59 Litre
Frame Size: 1060(d) 1000 x (w) 900 (h)
Frame Construction : Made from steel and powder coated green
Power : Standard 13 amp plug
2 Air Hoses
"Reduce Mud and Waste around your Golf Facility with our top of the range shoe valet"
Top of the Range Compressor
We use a top of the range premium air compressor to meet the needs of a busy golf course. It is a 59 litre oil free tank with an auto drain receiver valve.
Steel Frame
The steel frame is powder coated in green (other colours available on request) which houses the air compressor securely under lock and key.
All shoe cleaner frames are logo'd free of charge.
Warranty & Service
All compressors come with a years free warranty and its first service is recommended after 2 years or 2000 running hours.
Finance Available
Purchasing a shoe cleaner is a significant investment which we believe is worthwhile in the long term. Finance packages are therefore available, please contact us for more information.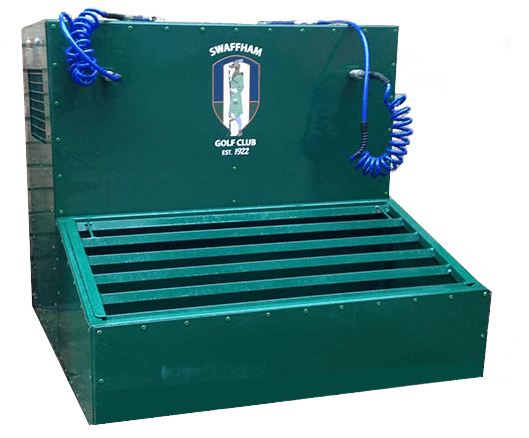 Why Purchase a Range Solutions Air Compressor Shoe Cleaner?
You will be buying from a reliable, long established Family Business.
Your cleaning and maintenance costs will be reduced considerably  – help eliminate the mess from around your facility created by the grass and mud from shoes.
Effective on both soft and metal spikes, as well as studs.
Helps to Address the Health and Safety implications of slipping on debris left from dirty shoes.
Logos or sponsorship can be added FREE OF CHARGE.
Each machine is hand built in our UK factory using the highest quality components.
The entire unit is powder coated against rust ensuring many years of service from your Range Solutions system.
Other colours available other than our standard Green – please ask for details.